Shweta Singh Kirti, sister of 34-year-old Bollywood actor Sushant Singh, who committed suicide on June 14, has deleted her social media accounts.
Sushant Singh's sister, who is based in the US, had sent an emotional message in memory of her brother and to Sushant's fans on the social networking site Facebook after arriving in Patna. But now, Shweta Singh Kirti has not only deleted her Facebook account but also her account on the photo and video-sharing app Instagram.
More Read: Sushant Singh's suicide case filed against big names in Bollywood
According to Indian media, the reason why Shweta Singh has deleted her social media accounts has not come to light yet. It may be recalled that Shweta Singh Kirti had posted a picture of the commemorative card that Sushant Singh had written for his sister with his own hands-on Facebook.
Shweta Singh Kirti wrote in her Facebook message calling her brother a brave fighter that she knew that Sushant Singh was in a lot of trouble and had been fighting it alone for so long.
Read More: The tragic death of Sushant Singh claimed the lives of 3 more people
She wrote that she wished she could ease her younger brother's pain and fill his life with happiness. She wrote about his brother's innocence and good manners that Sushant's innocent smile was a testament to how pure and clear his heart was.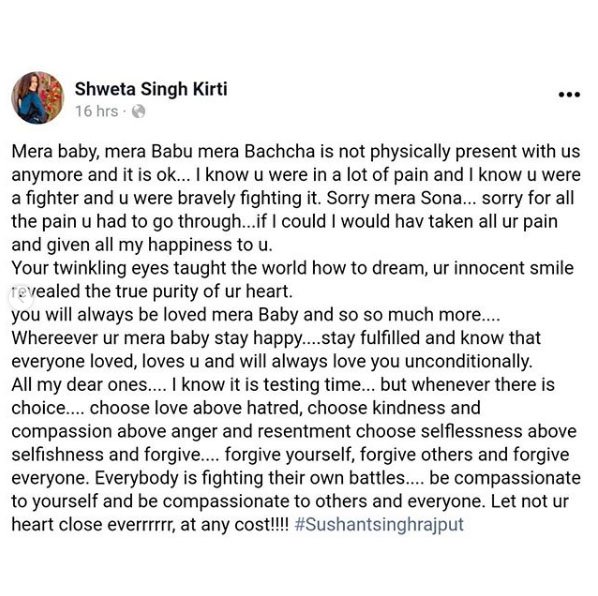 In her message, Shweta Singh also advised Sushant and her friends to treat others with compassion and love. She wrote that everyone here is fighting his own battle, so sympathize with yourself and be humble and compassionate with others.
Read Also: List of 50 handwritten wishes by actor Sushant Singh
It should be recalled that Bollywood actor Sushant Singh committed suicide on Sunday, June 14 at his home in Bandra area of Mumbai. According to the postmortem report, the actor's throat was slit due to hanging, after which he died.
Read More: Bollywood actor Sushant Singh Rajput commits suicide
During the investigation into Sushant Singh's suicide, the police received some documents from his house. According to them, Sushant Singh was undergoing treatment for depression.