Who bought the Mercedes AMG G63 at the price Rs13-Crore, 19-lacs in Pakistan?
According to the Punjab Excise and Taxation website, a Mercedes Jeep was registered in Punjab on September 2, 2021, with a price tag of Rs. 13 crore, 19 lakh 89 thousand.
According to the Punjab Excise website, a registration tax of Rs. 53 lakh, 81 thousand, 790 was paid on this vehicle named Mercedes AMG G-63.
This car with 4000 cc V8 dual-turbo engine, even if it is a 2021 model, according to the Mercedes company, its starting price starts from $156,000. The price of the Mercedes AMG G-63 in Pakistan is 26,073,996.
If all the valuables on the Mercedes website that are optional are also put in the car, then the price of the car will not increase beyond $180,000, ie a total of Rs. 26.7 million and Rs. 54,000.
So why it was bought for Rs 13 crore?
The Mercedes-Benz G-Series is the first car designed by former Iranian King Reza Shah Pahlavi specifically for his military purposes. Reza Pahlavi was also a shareholder in various German companies. The civilian model of this car was introduced in 1979, which went through various stages and internal changes and is now available in its current form, the Mercedes AMG G-63.
According to Suneel Sarfraz Munj, founder of Pak Wheels, the vehicle is also being used by the Prime Minister of Dubai, Sheikh Mohammed bin Rashid Al Maktoum. 1.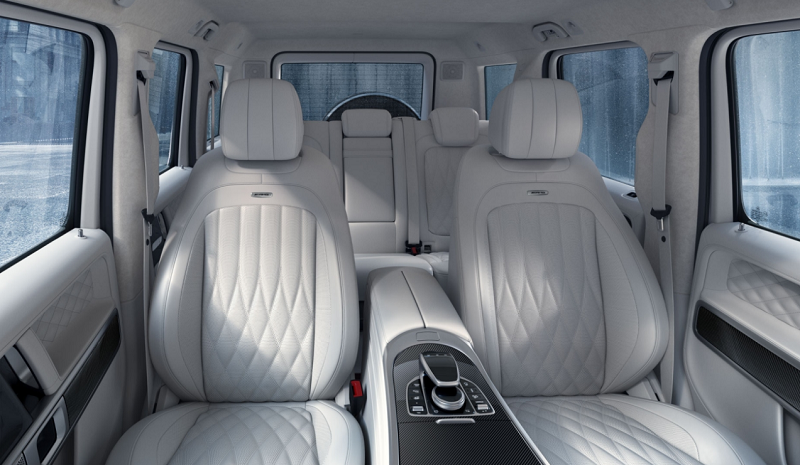 Strength and durability are the first features of this car. Gunther Holtorf is a German tourist who has traveled 900,000 kilometers in this car. He says the only problem he encountered in the car was the front axle bearings. He had to change these bearings seven or eight times during his long journey to 215 countries, otherwise, he would never have complained about this vehicle.
According to the First Post, the 19,000-kilometer journey was made without any problems in Siberia's minus 63-degree weather. The comfortable civilian model of this car was introduced in 1990, but its main buyers were still the forces of different countries. Russia, the United States, Britain, France, Belgium, Singapore, Kosovo, Germany, and the Iraqi army are also regular buyers of the vehicle.
Read Also: What's new in the new Honda City?
Five hundred G-Series vehicles were shipped to the United States in 2005 and based on the shrinking market, it was decided that the G-Wagon would no longer be shipped to the United States. Meanwhile, the US military ordered Mercedes to build 157 Interim Fast Attack Vehicles, a new route ahead of Mercedes.
At this point, if you visit the Mercedes website, you will find everything you like, including the car's exterior color, interior design, seat material, tire rims, extra reinforcement, and a complete car for you. It is custom made with only 25 color options.
The fuel average of this car with nine automatic gears is extremely low. 13 to 16 miles per gallon, which is a lot, then six kilometers per liter, which is the normal average of a V8 engine anyway.
Why did the car cost Rs 13 crore?
According to Suneel Sarfraz Manj, Founder of Pak Wheels, 363% duty was imposed on this vehicle, and this vehicle was imported by 'Shahnawaz' with zero meter and at least one and a half years ie 18 years for its worldwide delivery. Of the month He further said that such a used vehicle would be found in Pakistan at a cost of Rs. 10 to 11 crore while the customs duty on it would be at least Rs 3 crore.
When asked about this, Yasir Khan of Zalmai Off-Road and Racing Club (Zor) said that Pakistani buyers have to pay more taxes and duties than the original price in case of importing such vehicles. And so a car of two to three crores reaches twelve thirteen crores.
According to Subhan, a journalist working on vehicle news on Pak Wheels, the 13 crore rupees include car rental, insurance, customs clearance, and other duties. He gave the example of a Lamborghini registered in Punjab earlier which was worth less than Rs 100 million but by the time it was registered in Punjab, Pakistan, the price had doubled.
Who was the buyer of the car?
According to the details received, the diamond white car was registered in the name of JDW Sugar Mills which is considered to be the property of well-known politician Jahangir Tareen while it was taken in the name of First Habib Mudaraba.
On July 30, 2021, this vehicle was imported through a company called Shahnawaz Private Limited, which has long been considered to have a good reputation for importing valuable vehicles in the Pakistani market.
The registration fee of the car was Rs. 52 lakh 79 thousand 560 but the most amazing tax was in the name of 'professional tax' which was worth only Rs 200. Combining the remaining seven or eight stages of registration, the vehicle was registered for a total of Rs. 53 lakh, 81 thousand, 790.
A limousine bulletproof model of the same vehicle is available for the rest of the world for Rs 13 crore
According to the website Business Insider, a Canadian company, Inkas, offers between $600,000 and $12 million for a bullet-proof model of the Mercedes AMG G-63, which provides up to B-level weapon protection. The B-Seven is the last level of protection for a civilian vehicle, which is protected from possible attacks by grenades, including various types of rifles and pistols.
Different types of weapons-proof vehicles, including armored vehicles, are manufactured for the armies of different countries, but there are very few companies that manufacture such special vehicles for civilian purposes. Inkas is one of them.
Read Also: Honda introduces new CD70 in Pakistan