WhatsApp Launch Dark Mode in Pakistan
WhatsApp, the largest mobile application messaging company, introduced the Dark Mode feature for Android users.
Last year, WhatsApp was pleased to announce the introduction of the Dark Mode feature to users, which was underway but was stopped by the team for some technical reasons.
It is reported that WhatsApp has introduced the Dark Mode feature for users using the beta version before the Dark Mode theme has been introduced on the beta version of the iOS operating system.
The WhatsApp Dark Mode feature will darken the background, which will dim the mobile light (Brightness) thus allowing the user's mobile battery to last longer. If you use the Android Beta version you can use the Dark Mode feature on your WhatsApp.
Read Also:  WhatsApp to stop working on millions of Phones from today
How to use dark mode feature of WhatsApp
Open the WhatsApp, then go to its settings option. After going to settings, click on the 'Chat' option where the theme will appear.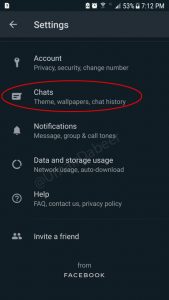 When you click on the theme, here you will see three options called System Default, Light, Dark.
If you click on Dark, the WhatsApp Dark Mode feature will be turned on. If you don't like the Black Whatsapp, you can go to the menu and change it.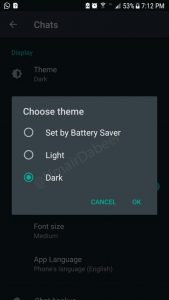 One such option is 'Set by Battery Saver', which works with mobile power saving.
Read Also: WhatsApp has introduced a new feature for the privacy of photos and videos