No burqa allowed, Patna college tells Muslim students; imposes Rs 250 fine for violation
A government college in the capital of the Indian state of Bihar has banned Muslim students from wearing burqas. According to the Indian media report, the administration of the Government Girls (JD Women's) College in Patna, Bihar, issued a circular for Muslim students, urging them not to attend the university.
Must Read: India should release Kashmiri political leaders
The administration said in a circular issued that no girl would be allowed to wear a burqa within the limits of the college and that students who violated the ban would be fined. The circular instructed that students violating the ban would have to pay a fine of Rs 250.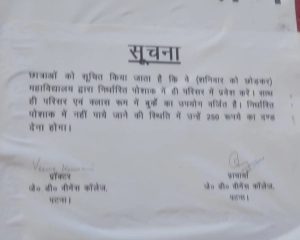 After the burqa ban was imposed by the college administration, the students and their families received strong backlash and the students also protested against the controversial order.
Must Read: Sejal Sharma Commits Suicide
Shortly after the overwhelming response, Principal Shamiya Rai said the ban on the students was lifted. He said that now the college administration has issued a second notice stating that there is no restriction on the wearing of the burqa of the students. And she'll be able to go to college on her own.