Dell plans to bring a 2-screen folding laptop
Folding smartphones were introduced last year by several companies, but now the technology company 'Dell' is likely to offer 2-screen laptops. The feature of this laptop will be that it will consist of 2 screens, ie a normal laptop with a keypad. Both screens of this laptop will be based on 13 inches while it will support the 'QHD Plus' resolution feature.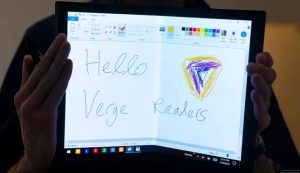 Both laptops will have multi-tasking screens, which means if you want to open a laptop and read a book on it, it will act as a single-page display on a large screen. On the other hand, if users want to write something on this laptop, it will act as a screen pad while the keyboard can be worked with this keyboard separately.
Currently, details of the Dell Company's specifications regarding the laptop have not been publicly disclosed as the company is said to have just presented the concept for this laptop. Dell's 2-screen laptop is currently in the testing phase, which is why no date has been announced by the company regarding the launch of the laptop in the market.
Related: