iTop is a top contender for the best free VPN for Windows distinction, which is easy to see when you look at the many resources and tools it has. When using it, you are sure to have a fulfilling moment with all-around protection and private browsing.
While it is a free VPN service, there are plans you can upgrade to if you want to access more resources and features.  Which package should I pick? This is a good question, especially if you are a new user of this service.
Let us introduce you to the available plans and their respective features to help you make a worthy decision.
Plan 1: The Free Plan
The free plan is one of the many advantages of using iTop VPN as you do not have to pay for its services. It works like a trial version, giving you an idea of what iTop is all about.  It has limited perks compared to the other two packages, but it is perfect if you are a beginner and want to know how to use this tool.
Some of the perks you get include access to 16 servers and 700MB of data. Unlike most VPN trial versions, you do not have a time limit for using it.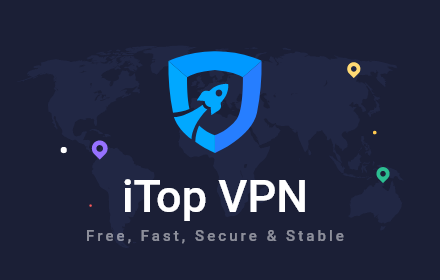 Plan 2: The 6-Month Package
You may also consider the 6-month package, which is perfect if you are upgrading from the free version but have limited funds. You pay $7.16 monthly for it, billed at $42.99 for the half-year period you will use it. This is a 70% discount, as typically it costs $143.88 for this plan.
Among the perks you will enjoy from this subscription include access to over 1800 servers worldwide, unlimited data and bandwidth, and a malware, tracker, and ad blocker.
Plan 3: The One-Year Plan
The other plan that this VPN for Windows offers is the one-year subscription. If you want to buy into it, you will pay $3.99 per month, billed yearly at $47.99. It is an 80% discount, as normally you pay $287.76 for this package. Moreover, you get an extra year of use, which makes it the most valuable subscription plan.
What are the benefits of the one year plan? Apart from the one extra year of use, you also have 10-times faster speed, secure torrents downloading, static or dynamic IP and access to over 1800 servers worldwide.  It grants you the same resource like the 6-month plan, only that the cost and duration vary.
Verdict
Picking a suitable package when presented with many can be quite challenging. The good news is that we want to help you make an informed decision when it comes to the three iTop VPN plans that you have.
If you are a new user, the recommended choice is the free plan, where you know more about this VPN service and its associated tools. The 6-month and one-year plans have the same resources. You can pick the former if you want to use the best free VPN for Windows for a short time. The other plan is ideal for long-term use, seeing that you get an extra service year.