TikTok star Jannat Mirza responds to leaked pictures going viral
Pakistan's number one TikTok model Jannat Mirza says that envious people are trying to defame her by using Photoshop. Sharing a story on the social networking site Instagram, the well-known TikToker said that first when the song was about to be released, my account was hacked, and then on the day the song was released, the account was banned.
Read Also: Pinky Francis Tiktok Star Biography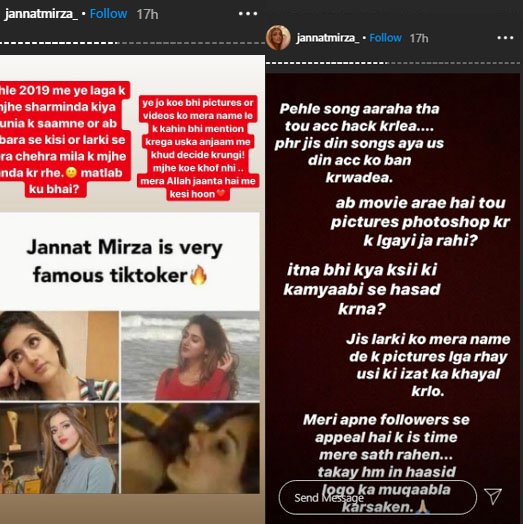 Jannat Mirza wrote that now when my film is coming, fake photos are being shared by doing photoshop. Jannat Mirza appealed to her loved ones to join her at this time so that they can fight the envious together. In another story, Jannat wrote that whoever is posting fake pictures of her in my name on social media, she will decide the outcome because she has no fear.
Read More: Girl allegedly gang-raped on gunpoint by 'TikTok friend', two others in Lahore
Jannat Mirza is a very popular Tik Toker who has more than 7.5 million followers on TikTok. He recently debuted with Muhammad Ali Josh in the video for Bilal Saeed's song 'Shayer'.