This makeup removing app is trending, See how celebrities look without Makeup
This makeup removing the app is trending, See how celebrities look without Makeup
There are thousands of apps are out there making selfies more beautiful, attractive and polished than a real-life look. For smoothening of a person's skin and making a person darkening, modern apps have got everyone covered.
Unfortunately, a photo editing app name Make up removal app is completely different from other apps that make a selfie gorgeous.
What actually is MakeApp?
The "MakeApp" is a picture editing app that removes make-up from pictures using some kind of coding and other functions. This MakeApp gives us the ability to see some one's picture without makeup.
This "MakeApp" makeup removal app is trending on social media. People are checking the real face of their favorite celebrities by using this makeup removal app.
Top 10 Hollywood Celebrities without Makeup
1: Rita Ora Without Makeup
2: Nicole Kidman without makeup
3: Kendall Jenner without makeup
4: Jennifer Lawerance without makeup
5: Jennifer Aniston without makeup
6: Emilia Clarke without makeup
7: Charlize Theron without makeup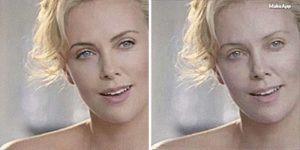 8: Bella Hadid Without makeup
9: Audrey Hepburn without makeup
10: Angelina Jolie without makeup