The US has very good relations with Pakistan
US President Donald Trump on a visit to India has said that the US has very good relations with Pakistan.
Addressing a ceremony in the Indian city of Ahmedabad, US President Donald Trump said relations with Pakistan are very good and its getting better. He said that indicators of progress with Pakistan have started to appear, hoping for a reduction in tensions in South Asia, increasing stability and coordination in the future.
Read Also: US President Donald Trump to visit Pakistan soon, says Shah Mehmood Qureshi
Earlier, US President Trump addressed a large gathering at Motira Cricket Stadium in Ahmedabad, the state headquarters of Gujarat. He started his address by saying 'Namaste' in Hindi, and from the greatest figures of Indian history to the big cricketers and Bollywood, he said that India is very important to us. There was a problem with the pronunciation of words.
Trump at Taj Mahal
Later, President Trump accompanied his wife and delegation to Agra, a historic city in northern India, where he visited the historic Taj Mahal built by Mughal Emperor Shah Jahan.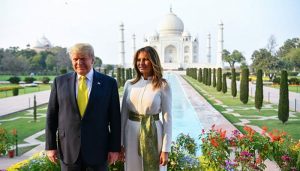 She was accompanied by First Lady Melania Trump. On this occasion, the President and his wife made several photographs there and watched the Taj Mahal with great interest.