PDF is the most significant and essential file format used for viewing, transmitting, and editing data over the internet in the entire world. It is created by Adobe and preserves all font types, graphics, formatting, and color for any document regardless of the platform and application used to make it. PDF files, like other data types, can also get corrupted for various reasons. Users can easily edit shared PDF files, but they cannot repair them quickly. So, an advanced and simple method is to use file repair tool. In this article, we will discuss the major reasons for pdf files being corrupted, common methods to repair damaged pdf files, and how the Wondershare Repairit can repair damaged pdf files.
The cause of pdf file corruption
A pdf can be get corrupted due to a variety of reasons. The following are the most important ones.
Hard disk problem: The most common reason pdf files get corrupted is the crash of the hard disk. Some data is lost due to minor collisions. If the data is lost, the pdf gets damaged and will not open again. The file can be completely lost if the hard disk fails.
Storage issue: Another reason the pdf file gets corrupted is the problem with the storage device. Whether you have placed the pdf file on infected storage or not, your document can encounter issues with the storage device.
Incompatible software: If you try to open your pdf document with incompatible software, it can get corrupted. To open pdf files, it is recommended to use appropriate software.
Virus or Malware: If your document faces a malware attack, it can get corrupted or infected. Always be aware of uploading or downloading anything from an unfamiliar website. Unintentionally, malware can be downloaded that can harm your document or computer.
Error while downloading: Some errors can occur while downloading a pdf file that can corrupt the document. An unstable internet connection is among those errors. It can also be that another download has interrupted your download. To minimize the risk, always make sure that you have a stable internet connection.
Common ways to repair PDF files 
If your pdf file gets corrupted, the following are the most common methods to repair pdf files.
Try an alternative pdf reader: If Adobe is unable to open the pdf file, then it can be possible that your file is not corrupted, but the application reader cannot open that file, and some functionalities are not working properly. Try some alternative pdf file readers and check whether they can open the file correctly or not.
Restore the older version of the application: If the repairing feature cannot repair a pdf file, then another method to repair a corrupted pdf file is to restore the selected pdf reader to the previous version. Windows consists of a feature that can save previous versions of the files according to requirements.
Extract only text: This approach is time-consuming, but sometimes it becomes necessary. Only text can be extracted from the corrupted pdf files. For this purpose, select the properties from the context menu and right-click on the pdf file. Select open with, then click on the notepad. The notepad will display a mix of PostScript code and some unreadable characters. In the file block, click on the text options and copy it. Finally, open and paste the copied text into the new document.
How to repair pdf files with Repairit?
If the above-discussed methods cannot repair corrupted pdf files, then it is advised to use professional data recovery tools. Wondershare Repairit is the most suitable option in this regard. The software cab repair corrupted pdf files and made them readable. So, follow the steps given to repair your corrupted pdf file.
Download and install Wondershare Repairit. When you launch your application, it will look like the given picture. To start, click on the file repair feature in the left sidebar. Then click on the add button. This will start new browsing. Here you can add the corrupted files which you want to repair.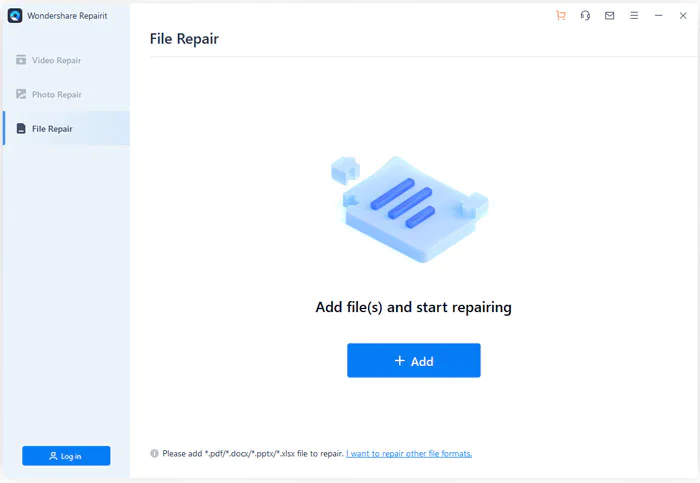 Then click on the Repair button to start the repairing process. During the repairing process, you can pause at any time according to requirements.
When the repairing process has been finished, the browser will inform and display the results. Now click on the display save button to save the pdf files and define where you want to save them.
Some most common features of Repairit that force individuals to use this significant application are:
Multiple platforms supported
Easy to use interface
Preview feature available
Compatible with different types of file formats such as audio, videos, hyperlinks, texts, digital signatures, and graphs
Store the repaired files on external devices
Conclusion 
Most professionals store information in pdf format. However, sometimes due to some sudden issues, the pdf files can get corrupted. That's why many individuals at different organizations are dealing with corrupted pdf file issues. There are many tools available that can help to repair corrupted pdf files. Wondershare Repairit is the most effective and efficient tool in this regard. It can repair all significant and minor issues that cause pdf files to fail. So just follow the above guidelines and repair all your corrupted documents.