Senior journalist Matiullah Jan went missing from Islamabad. According to Matiullah Jan's wife, her husband's car was found parked near a school in G-6. After the missing of Matiullah Jan #BringBackMatiullah, #ReleaseMatiullah & #Islamabad is trending on twitter and other social media platforms. People are protesting on twitter for the release of Matiullah.
Matiullah Jan's wife said that "I was told that my husband was forcibly taken away by some people,". Police say they are investigating the disappearance of Matiullah Jan. On the other hand, a tweet has been made from the Twitter account of journalist Matiullah Jan in which his son reported his father is abducted from Islamabad.
Matiullahjan, my father, has been abducted from the heart of the capital Islamad. I demand he be foundُ and the agencies behind it immediately be held responsible. God keep him safe.

— Matiullah Jan (@Matiullahjan919) July 21, 2020
Matiullah Jan's son tweeted that my father had been abducted from Islamabad. He demanded the immediate recovery of his father and the arrest of those responsible.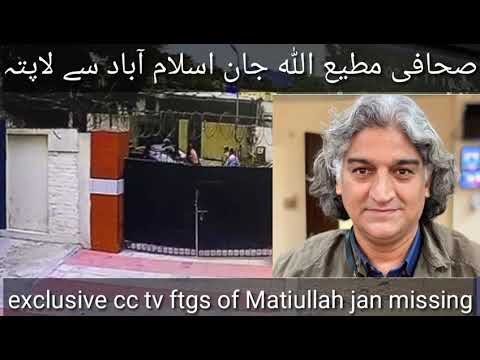 In addition, a tweet has been shared on Matiullah Jan's Twitter account in which a CCTV video released shows the alleged abduction of Matiullah Jan.
Allah keep him safe from these scoundrels. https://t.co/bWJfuCZ4qS

— Matiullah Jan (@Matiullahjan919) July 21, 2020
Senior journalist and Geo News reporter Azaz Syed also shared a video of Matiullah Jan's car in his tweet and reported his disappearance.
This is the vehicle of @Matiullahjan919 which he used last – he was forcefully picked up from in front of G-6-1/3 ,Islamabad Model School for Girl's (where his wife works). مطیع اللہ جان یہ گاڑی استعمال کر رہے تھے کہ انہیں لاپتہ کر دیا گیا ۔ pic.twitter.com/pDQsZfOwFI

— Azaz Syed (@AzazSyed) July 21, 2020
Amnesty International expresses concern
Amnesty International has expressed concern over the abduction of Matiullah Jan and said that the authorities should find Matiullah Jan as soon as possible. Matiullah Jan has faced attacks and harassment in the past due to his journalism.
In addition, the Human Rights Commission of Pakistan has also demanded the immediate recovery of Matiullah Jan. It should be noted that the Supreme Court had recently taken suo motu notice of Matiullah Jan's tweet and issued a contempt of court notice to him.