Ayurveda is one of the oldest medical systems in the world that has its roots in the Vedic period. The Ayurvedic system of healing the Ayurvedic work on the concept where Ayurvedic therapy enhances the natural healing capacity of the body.
There are so many methods of treatment available in India but still, people are not aware of many of them. Ayurveda has a very wide scope when it comes to the prevention of disease and health promotion. If the laws of nature and the lifestyle rules of Ayurveda are followed meticulously then it surely gives the desired results. The Ayurvedic treatment includes reducing symptoms, elimination of impurities, reducing stress, increase resisting power, and increasing harmony in lifestyle.
Ayurveda in a wider sense aims at the prevention of health by preventing the disease and this is achieved by restoring harmony and balance between the mind, body, and soul through herbs, Meditation, nutrition, and daily routines. It is a health care system that uses traditional Vedic methods for healing and rejuvenating purposes. This not only cures the diseases but also prevents it from occurring again. That is the most trustworthy medical science that treats, cure, prevent the disease and rejuvenates.
Ayurvedic courses are in a lot of demand in India due to the increasing popularity of Ayurveda. It is one of the most trustworthy and reliable streams of medicine. It studies the lifespan of a person from birth to death. Ayurveda provides assistance to live a good life and follow a better lifestyle.
 What are BAMS and its eligibility criteria?
BAMS is a bachelor's degree in Ayurvedic Medicine and surgery. It is a degree that is offered by some of the renowned institutes in India. The students get enrolled in the course for five years and six months. This one year is for an internship. Thus degree is bestowed on the students who study modern medicines with traditional Ayurveda study.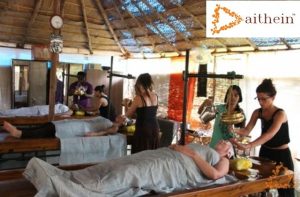 Thus, we can say that BAMS is a bachelor's degree in Ayurvedic Medicine and surgery in the ancient Ayurvedic medical system which has the key to cure and prevent the body by bringing Kapha, pitta, and vata into harmony.
Read Also: Hadoop Training in Pune
It is the study of Ayurveda which also involves the study of other subjects like Toxicology, Pharmacology, Pathology, Gynecology, Physiology, Principles of Medicine, and Principles of Surgery.
The students who had science stream in 12th standard with physics, chemistry, and biology as their subjects can only apply for the course. The candidate has to qualify for NEET, which is a national level entrance examination. Apart from that the students also have the opportunity to appear in state-level entrance examinations like OJEE, KEAM, GCET, BVP CET, and IPU CET.
You can go for Specializations in the field as well in Shallya Tantra, Padartha Vigyan, Sharir Kriya, Rasa Shastra, Charak Samhita, Prasuti and Stri Roga, Agad Tantra, Rog & Vikriti Vigyan, Sharir Rachana, Kayachikitsa, Shalakya Tantra, and Charak Samhita.
Opportunities that come with BAMS
The scope of Ayurvedic is taking over other medical sciences. This scenario can be seen not only in India but also in other parts of the world. The people are going towards it because of its truthfulness and medicines that are known for treating even the most chronic and non-healable disease. The Ayurveda with its magic spell is healing the world.
If you want to explore career opportunities then you have all the chances to not only practice in India but also in other parts of the world. With a BAMS degree, you are eligible to practice privately as well as it gives you an opportunity to be called a doctor. You can also get the job of a doctor in government hospitals.
Read Also: Chinese language courses in Delhi
BAMS gives you innumerable opportunities to practice job profiles like Lecturer, Scientist, Therapist, Business development manager, Sales representatives, Product manager, Pharmacist, Medical representative, doctor, ASM, and Manager in a big company.
Apart from that, there are some employment areas for professionals who can make their careers after doing BAMS. Some of them are the Healthcare sector, Pharmaceutical industries, Education, IT, Insurance, Nursing home, Spa or an Ayurvedic resort, hospitals, dispensaries, colleges, or research institutes.
Best Ayurvedic training courses in India
India is considered one of the best countries if you want to get trained in Ayurveda as it is the place where it originated and later flourished. Later it is adopted by other countries as well after realizing its pros that are not offered by any other field of science or medicine. There are many Ayurveda training courses offered that can help you in establishing a career in the field of Ayurveda as all the in-demand courses are covered.
1: Bachelor of Ayurvedic Medicine and Surgery (BAMS)
It is one of the best courses with a 5 and a half year-long tenure with one year of internship. It trains students in the field of Ayurveda in combination with the concept of Toxicology, Pharmacology, Pathology, Gynecology, Physiology, Principles of Medicine, and Principles of Surgery. The qualification to join the course is that you should be a pass out in 12th with science stream with biology, physics, and chemistry as the subjects.
2: MD or MS in Ayurveda
MD or MS in Ayurveda is a three-year course after doing BAMS which specializes in you in a particular field of Ayurveda. It is mandatory to pursue the undergraduate degree of BAMs to do this course.
EndNote
Make your health your priority with Ayurveda and offer your services by doing the Ayurveda training in India. If you want to open Beauty centers, Wellness centers, Panchakarma centers, with the option of cooking courses then it is also not far behind as here are some schools that provide the best professional courses, degree courses, and certificate courses.