Rytr Review 2022 – The Best Future AI Content Generator Tool
Rytr Review 2022: Rytr is a tool that helps you in writing automated content. It is a GPT 3 based tool. For easy understanding, it is a tool that you can use to write content automatically. It is a very simple tool to generate automated content. You just have to give out some basic points to this tool and it will generate long-form content as per your given instructions.
In this article, we will provide you all the required information about Rytr, its intuitive features (the landing page creator is absolutely stunning!), it's pricing, customer support, roadmap, affiliate program, and much more!
After reading this article you will also understand how to use Rytr, why you should use Rytr, who should use Rytr, the major pros and cons of Rytr, and much more. So, continue reading this post to learn everything about the Rytr AI content generator tool.
About Rytr and Rytr Owner
Rytr is an automated content creator tool powered by AI. Rytr helps you generate high-quality AI content for blogs, YouTube videos, emails, social media posts and ads, landing pages, and a lot more. It also supports multiple languages and tones. It is based on the latest technology called the GPT-3 AI model that helps in generating new and plagiarism-free content in minutes!
Now, let us discuss in depth the working of the Rytr tool. Rytr was found by Abhi Godara in May 2021. Abhi Godara has a decade of experience in consulting, venture capital, & startups and has built & scaled multiple products to millions of users and six-figure in ARR.  Rytr an automatic content generator tool is looking great and will surely help writers to write content more easily.
Rytr Initial promotional plan
Currently, an ad for this automated content generator is running on Appsumo where you can buy this tool for a lifetime just for $39. This tool has currently 516 positive reviews on Appsumo. As initially, this content generator tool is looking awesome. The deal of a lifetime is at a very cheap price read reviews and buy it today because $39 is not much amount for a lifetime deal of any product/tool.
In the lifetime plan of the Rytr content generator tool, you will get the following features for $39 for a lifetime.
Access 20+ use cases and templates
Write sales and marketing emails that get replies
Discover ideas and write engaging content for the blog
Generate creative, catchy copies for social media
Write product, job, profile, video descriptions
Generate interesting captions for Instagram posts
Access to a premium, members-only community
Dedicated account manager & priority email support
Support for 10+ languages (coming soon)
Access to all future updates and features
Allows you to generate 50,000 characters per month
This deal looks great. I think you guys should have to give it a try.
Note, this is not an affiliate article it is just based on the study of this tool by our experts.
How does Rytr Work? – (Rytr Review 2022)
As mentioned in the intro it is an AI-based writing tool, and AI writing tools use special language models to learn sentence formation, language rules, and vocabulary from all the text-based data available on the Internet.
After that, they make use of their learning to create or generate new sentences from the existing text-based data on the Internet. This technology sounds cool, right? But, how does this new AI-based writing tool Rytr mark itself differently?
Rytr AI content writing tool is based on the lasted version of GPT-3 (Generative Pre-trained Transformer 3) technology which is basically a language model. GPT 3 is a language predictor technology model that can generate high-quality content from the provided input to this tool. It is used for generating texts, question answers, summaries, translations, etc.
As mentioned above it is a language predictor and it creates new unique sentences by predicting the next word, so the content generated by GPT 3 technology is usually free from Plagiarism. So, this new AI-based writing tool Rytr is using GPT 3 technology, and content generated by this tool surely will be free of plagiarism.
Rytr Pricing and Plans
Rytr offers a monthly paid plan for $29 which gives you access to the following features of this tool.
24 use cases
21 tones
29 languages
And unlimited characters!
This tool also offers a free plan with access to all the paid features, but you can only generate content of 5000 characters in a month in a free plan.
| | | | |
| --- | --- | --- | --- |
| Rytr AI Content Writer | Free Plan | Monthly Paid Plan | AppSumo Rytr Lifetime Plan |
| Pricing | $0 | $29 | $39 |
| Characters/month | 5k | Unlimited | 50k |
As of now, Rytr is available as a Lifetime deal on AppSumo for $39. With this plan, you get a 50k characters/month limit. I think it is 100% worth purchasing. Why? (Read the article till the end to find out!)
User Interface
The Rytr has a clean and user-friendly interface. You can easily and quickly sign up by using your Google account or Facebook account.
The editor will open a pop-up window but you can switch to full screen by clicking the given option in the header. Currently, Rytr does not have a mobile app, but the website is optimized to use on mobile as well, so you can use Rytr in the mobile browser without any problem.
How to start working with Rytr?
Working on Rytr is very easy. Everyone can generate high-quality content of their requirements within no time.
Here are the steps are given below to start working with Rytr.
Select language from the drop-down menu.
Choose a suitable tone for your content.
Select the option of content you wish to generate.
Put a keyword or keyphrase
Enter the number of variants (maximum 3) you want to generate.
Click on 'Ryte for Me'. It will generate the results within a matter of seconds.
You can edit generated content in the editor panel if you are not satisfied with generated content by Rytr. You can also repeat or change your keywords or key phrases to generate more accurate content as per your requirements.
Rytr also offers the History tab for revisiting your previously generated content. You can also keep a note of the characters used under the Accounts tab.
Features
Languages
As of now, this tool supports 29 languages and it is great to create content in your native language.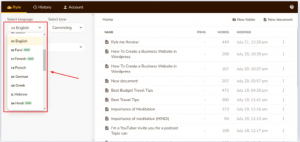 Tones
This is a unique thing in Rytr you can select a tone for your content. Rytr is currently offering 21 tones for expressing a variety of emotions. Humorous, casual, convincing, worried, humble, passionate, formal, etc are some examples. They have recently added the Critical tone as well.
Using relevant tones, you can control the effect your content has on the readers. For example, sales emails can use a convincing tone, whereas blog intros can be written in an enthusiastic tone, etc.
Use Cases
As a writer you need to create different types of content for different purposes, right? In, this case Rytr does not disappoint the writers or content generators as it is offering 24 use cases covering different types for example,
If you are a blogger and want to generate blog posts from scratch and optimize them for SEO with these use cases: Blog Idea and Outline, Section Writing, Tagline and Headline, SEO meta Description, and SEO meta title.
If you are a copywriter you can use the Rytr use cases to generate high-quality content for landing pages and websites. You can also create content as per the frameworks of copywriting AIBA and PAS.
You are a YouTuber and want to create a channel and video description no worries the Rytr has use cases for YouTubers.
Entrepreneurs, Businessmen, Sales Professionals
If you are an Entrepreneur, Businessmen or a sales professional you can create Google, Facebook, and LinkedIn ads, descriptions for products, idea pitches for business,es and testimonials.
Well, Rytr is the best choice for an HR professional. HR Professionals can quickly generate interview questions, hiring and onboarding emails and job descriptions.
If you are a social media manager you can use Rytr to generate post and captions ideas and profile bio within seconds!
Rytr allows creative writers to generate creative content like song lyrics and story plots.
The Rytr allows using of Magic Command to implement additional use cases like generating poems, letters, answers, etc.
Rytr Customer Support
Email and live chat support are available on Rytr. In case of any issues or questions, you can quickly contact to Rytr customer support department by using email and live chat support options. Rytr customer support team usually responds in 2/3 minutes. It also has an 8-minute video tutorial for beginners as soon as they create an account.
Rytr Affiliate Program
Rytr is offering a rewarding affiliate program to its users. When you sign up for their Affiliate Program, you can refer Rytr to your friends, family, and followers. If they purchase Rytr using your referral link, you will earn a 30% commission on all references for a lifetime. This is great for influencers with an existing audience!
Rytr Pros
1. Good UI
The user interface of Rytr looks quite modern and well organized. It looks clean and friendly on both web and mobile devices.
2. Easy to Use
Rytr tool is easy to use for beginners and is not crammed with dozens of functions to overwhelm the users.
3. Supports 29 languages
The best feature of Rytr is its support for multiple languages. You can generate content in 29 languages as of now. Indians would love to generate Hindi content!
4. Excellent Live Chat Support
Their Live Chat support is quite fast and responsive. I received replies to my queries in under 1-5 minutes.
5. Powerful Landing Page Creator
The Landing Page Creator generated impressive and highly relevant content. With a few tweaks, your landing page copy is ready to roll!
6. Inbuilt Plagiarism Checker
Rytr also has an in-built plagiarism checking tool. You can instantly check if the generated content is available on the web by simply clicking on the plagiarism checker.
7. Interesting Magic Command Tool
The Magic Command tool adds more flexibility to your AI writing. It lets you generate additional content like poems, letters, question answers, etc not mentioned in the use cases.
Rytr Cons
1. Limited Credits on AppSumo deal 
The AppSumo deal offers a 50,000-character limit per month. I've used up 42k characters, (i.e. 84% of my monthly limit) just for testing all the use cases available on Rytr!
2. Limited Input Options
While generating SEO metadata, Rytr should provide an option for adding target keywords. The SEO metadata should be generated according to the target keyword. Though it's not a huge issue, the input option would have helped a lot in tuning the content.
3. Informative Tone Missing
Because I mostly work with technical and review articles, I find the informative tone more relevant for my content. Sadly, I didn't find it on Rytr.
4. Blog Intro Missing
Most writers (including me) struggle with writing interesting intros for their blog posts. Rytr should also include the Blog Intro as a use case.
5. Inconsistencies
It does not always include all the inputs that we have provided for a use case, like the AIDA framework. Also, changing the tone sometimes flips the content considerably, and it becomes irrelevant to the topic.
Conclusion
Rytr is a newcomer in the AI-writing space, but it has a strong potential to become a major player. With its GPT 3 model in place, Rytr can definitely be the future of AI copywriting in the content industry.
Overall, Rytr looks like an impressive AI-powered writing tool. It's easy to use. It's simple. It's quick! Although you get limited monthly credits, the Lifetime deal looks like a steal deal to me at the price point it's being offered!
I am going to keep this tool. I loved generating unique content with Rytr and I am curious to see what improvements it's going to implement in the future. You can also try out its AppSumo deal to see if it works for your niche.
"In case you're looking for an alternative ai content generator, you can also check Typli.ai which offers both ai writing assistant and an SEO checker to optimize your content. Typli.ai also has a content spinner feature, WordPress Plugin, and browser extension, as well as a Copyscape checker to avoid plagiarism. "
Anyway, I hope you enjoyed reading this Rytr.me Review. What do you think about the future of AI? Will AI Writing software like Rytr become mainstream in the coming years? Let me know your opinions in the comments sections below.
If you found this article helpful, you can subscribe to my Newsletter to stay updated with the latest information around digital tools and services.