How to Find the Perfect Athletic Leggings for Your Workout
Activewear has become quite popular in the past few years, which is great news if you're into exercising. Now it's possible to find a wide variety of workout clothes that can fit your body and exercise style. Choosing the appropriate activewear will also help you exercise better. Athletic leggings are probably the most important exercise clothing item, so it's essential to choose a perfect pair that you'll enjoy wearing. So here are some tips that will help you find the best pair of athletic leggings for your workout.
Don't settle for just any cut
Before you start the selection process, be sure to learn about different cuts. Not all leggings are the same, nor do they have the same purpose. The most commonly found are full-length leggings, and they cover the entire leg. So if you're unsure which pair to pick then full-length, or ankle-length leggings are the best choice.
There are also leggings that are cut right below the knee, also known as Capri leggings. Then there are also boot-cut leggings that are created to fit the thighs and hips area, while also flaring at the bottom. Also, if you're more ambitious about your workout, you can choose athletic leggings that are cut to hit your mid-calf for maximum compression. Remember that there is no right or wrong choice here.
Choose the right fabrics
The fabrics are often the most important aspect of any type of leggings, besides the cut. The right type of fabrics will also have an influence on the quality and durability of the item itself. If you're choosing leggings for exercise, then it's crucial to get the pair made of moisture-wicking materials such as cotton, for example. This is because cotton is made of natural fibers. However, you can also opt for artificial materials. Spandex and polyester are antimicrobial fabrics that also have swat-wicking properties. That makes them a great choice.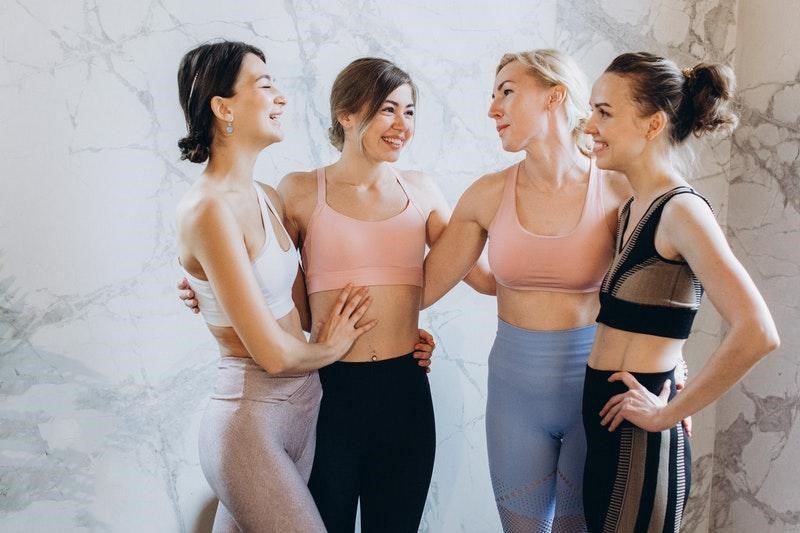 Try them on before buying them
The golden rule states that you should try clothes on before you decide to buy them. However, the rapid rise in online shopping, mixed with the pandemic made that more difficult. If you want to make sure that your potential leggings are comfortable, then it's best to try them on. However, if you're shopping online, then be sure to read the product description and reviews from other buyers, especially those with a similar body type to yours.
If you're looking for quality stretchy leggings, then being informed is crucial for a successful purchase. If possible, try them on to get the feel of them, but if that's not an option, then learn as much as you can about the product before buying it.
Get the right design that you love
Sure, maybe the design isn't of much importance, but it still matters. If you're looking to motivate yourself to exercise, then choose an eclectic or colorful print that will instantly lift your mood. Interesting, fun patterns and bold colors such as green, purple or yellow can have a positive effect on the way you approach working out. Also, there are so many colors and prints available, so feel free to experiment.
Check out the extra features that might be important
A basic pair of leggings is likely to do the job, especially if you don't have any additional requirements. But, if you do, then it's important to look for some additional features, such as pockets. This one can be extremely useful if you're a runner, and need an extra pocket for your phone or your house keys. Additionally, a waistband is also a great feature as it helps you be more focused because it keeps the leggings in one place. Plus, such features can seriously maximize the effectiveness of your workout, which is important if you have a firm fitness goal that you want to accomplish.
Picking a perfect pair of athletic leggings is an important task, especially if you're serious about exercising. These tips will help you make the best choice, as long as you're committed and informed about your purchases. Choosing the right cut and materials will help you feel comfortable and exercise with maximum ease and efficiency.