There's no greater dilemma than deciding the perfect, the most-apt outfit for a special occasion – be it a day at the office or a fancy brunch by the sea, or a gram-worthy Saturday night date or even a relaxed coffee session with the girls, every occasion's outfits needs to be on-point and well-thought out. While you may already feel burdened thinking about the task – we'll ask you to do just one thing – not fret and follow along!
The top tips for choosing the right women dresses is to thoroughly understand the mood of the occasion – if it's all-out glamorous, if it's sweet & intimate, if it's bright & sunshine-y or if it's moody and out-of-the-ordinary – the mood will always guide you through. Say, if it's all-out-glamorous the obvious choice becomes something with eye-catching sequin work or shiny metallics, if it's sweet & intimate or bright and sunshine-y the go-to choice becomes darling florals and pastels, and if it's moody, then interesting cuts and spectacular silhouettes make for the most ideal pick.
Feeling a little bit more confident about the fashion choices you're about to make? Follow on for a thorough guide:
For that team brunch at a garden-side cafe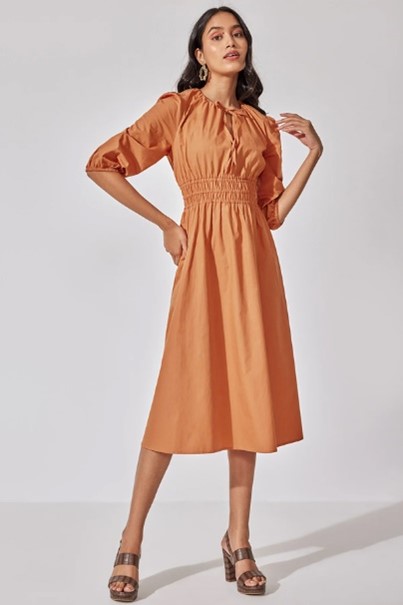 A brunch and a nude-hued midi always, always go hand in hand! There's just something bright and chic about attending an outdoor brunch – and more so, if you're attending it in a professional capacity, a well put-together and sophisticated look is a must. Enter: Our Caramel Smocked Midi Dress. When paired with stark and statement gold jewels and delicate kitten heels, this dress shines as brightly as the sun you're going to be brunching under. It also makes for a beautiful transitional dress for when you need to immediately head back to a hectic meeting. So, there you have it, the perfect little dress for that sunny team brunch.
For that all-important meeting
Corporate dressing can always be tricky. It's even more intimidating when you're helming a meeting, leading it and staying under the spotlight for a really, really long time. But, fret not, while you take care of your presentation we'll take care of your meeting attire. Meet our Black Self Tie Shirt Dress, a suave, sophisticated and well-sculpted dress that's the perfect pick for an all-important meeting. It goes stunningly well with minimal hoops, a charming neutral-toned tote and white-hued kitten heels or loafers. Switch it up with higher-heels and chunkier jewellery if you're planning to step out for a success dinner after the meeting.
For the transition from work to that wine & cheese night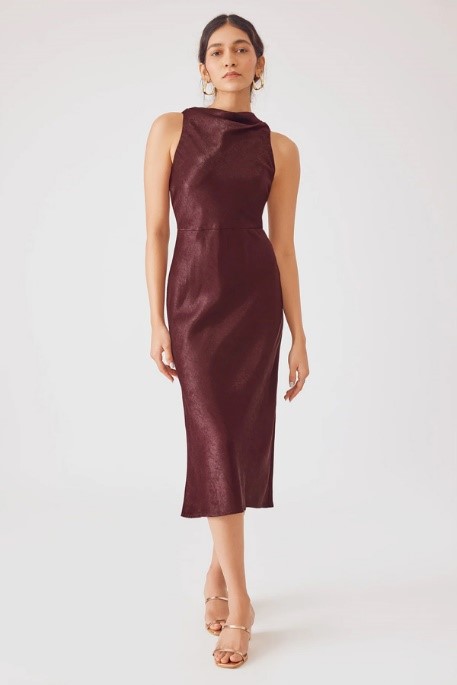 Taking an outfit from morning to evening is always a tricky area. It needs to be comfortable enough, it needs to be chic enough, it needs to fit the part for both the times of the day. But great for you, we've got just the right thing for your next work-to-wine stint! Enter: our Wine Cowl Neck Midi Dress. Pair this chic, flattering and eye-catching dress with a lovely cardigan or blazer for those hours spent in the office. When switching it up for that wine & cheese night, wear it as it is paired with a statement clutch and chunky gold jewellery! We bet you're bound to stay comfortable through the day – and night – with this lovely ensemble.
For that glittery Saturday night out
Saturday night dressing usually means an all-black fashionable dress with shiny shoes and spotlight-stealing accessories. But…who is to say you can't experiment with the dress code? Meet our unique take on the classic and timeless little black dress – our Black Tie Up Strappy Dress! An experimental, flattering, midriff-friendly dress that's perfect for that sophisticated Saturday night! Pair it with statement silver earrings, colour block with a contrasting clutch and match your pair of heels to either the bag or the jewels for a statement weekend-perfect look! Weekend dressing doesn't get easier and more fuss-free than this, does it?
For that charming date night out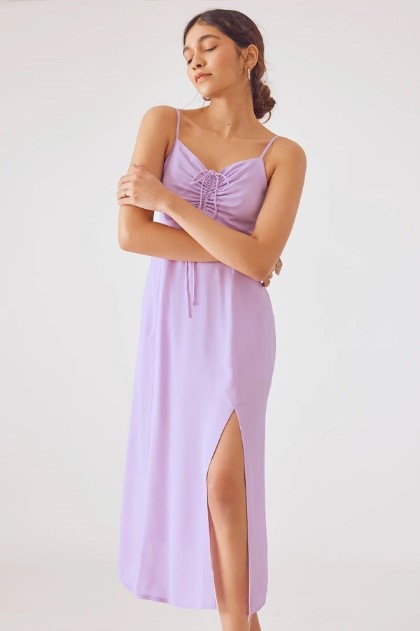 It is always better to be a little extra for that special little date night! It doesn't hurt to be a little edgy, to get a little experimental and to stun in sweet-hued ensembles. Meet our date-night-perfect pick: Our Lilac Strappy Tie Up Dress. Its statement ruched detail as well as the flowy silhouette make it the ideal choice for any kind of date night – a beachside one, a candlelight dinner or even just an at-home movie night! Pair it with open-toed platforms along with a mini clutch and some cute pop-toned jewels to make the look yet more dreamier.
There you have it! Make this your guide to any and every time you want to find an easier fix or a more hassle-free solution to occasion-based dressing.
Shop all looks on www.thelabellife.com