PDF is a popular format used in documents and photos. The format is popular both at personal and organizational levels. However, it is always a challenge since it is not easy to edit or share PDF documents. Converting PDF to other file formats is a great way to make it easy to edit and share. You can use several tools for the conversion, but the most critical thing is to use the most efficient among the many. UPDF Converter for Windows and Mac is an excellent and free tool you can use to convert PDF files to other formats in Windows and Mac.
The Introduction of UPDF Converter
UPDF Converter for windows and Mac is a great app you can use for your day-to-day conversion of PDFs into more editable versions. The tool Optical Character Recognition or OCR algorithms helps in the visual collection of data and convert these files without the visual and layout elements of the original PDF within a few seconds. You can convert scanned PDF to Word or other formats.
This is a versatile tool that supports different file formats such as HTML, Word, PDF, Text, Excel, and image files. Since it can extract document data from the various non-editable versions, it makes it easy to convert pictures into completely editable documents. The safety of your file is guaranteed with enterprise-grade encryption to ensure that there is no unauthorized person who can access them unless you consent to that.
UPDF Converter is a fast tool since you can convert all the PDFs within a few seconds. It doesn't matter the size or the number of PDFs you want to convert; you will be done with the job in less than a minute. It's a tool you can use for your files at home or in the workplace. It is fully optimized for Windows and Mac. However, you get a premium license to be able to take advantage of all its capabilities.
Handling of the tool is not different for Mac and Windows users. To use a UPDF Converter, you should begin by installing it. You should choose whether you want for Mac or Windows. After setting up the tool, you can then use it to do the conversion. It offers you the freedom to convert your PDFs into different versions depending on your task requirement.
 Major UPDF Converter Features
Converts PDF to Several Editable Formats
As mentioned earlier, the UPDF Converter is a versatile tool that allows you to convert PDFs to any other editable version you need. The tool is designed to efficiently export PDFs to Word, Excel, PowerPoint, CSV, Images (JPG, PNG, BMP, TIFF, and GIF), HTML, XML, Text, RTF, and PDF/A.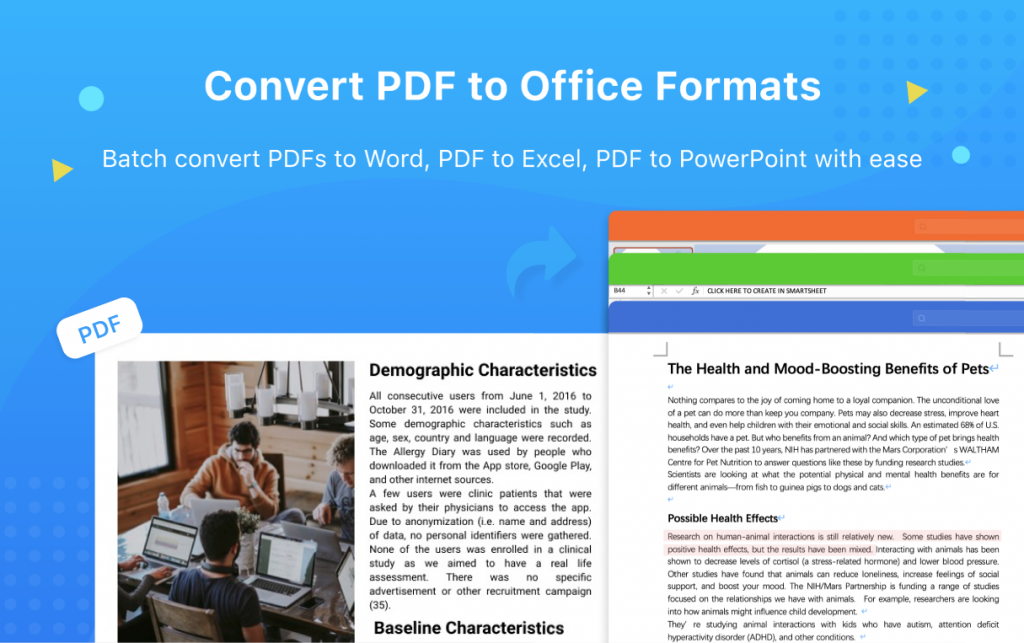 It just takes a few seconds to convert your PDF files into all these formats without losing the original format or data. Its versatility to convert PDFs into all these formats ensures that you don't have to use a lot of tools in for your personal work or in the workplace to do the conversions. This makes your work easier and offer high level convenience.
OCR to Convert Scanned PDF into Editable Formats
UPDF Converter Optical Character Recognition feature makes it possible for you to convert scanned PDFs or image-based files to editable versions. This feature supports 23 languages, so; you have the option to choose the language you want to use in the process. A single page OCR scanning can be completed within a few seconds; thus, even if you have large scanned files with many pages, the OCR feature helps convert them into editable versions more efficiently. The feature helps extract data from non-editable sources, making it easy to convert and perform future edits.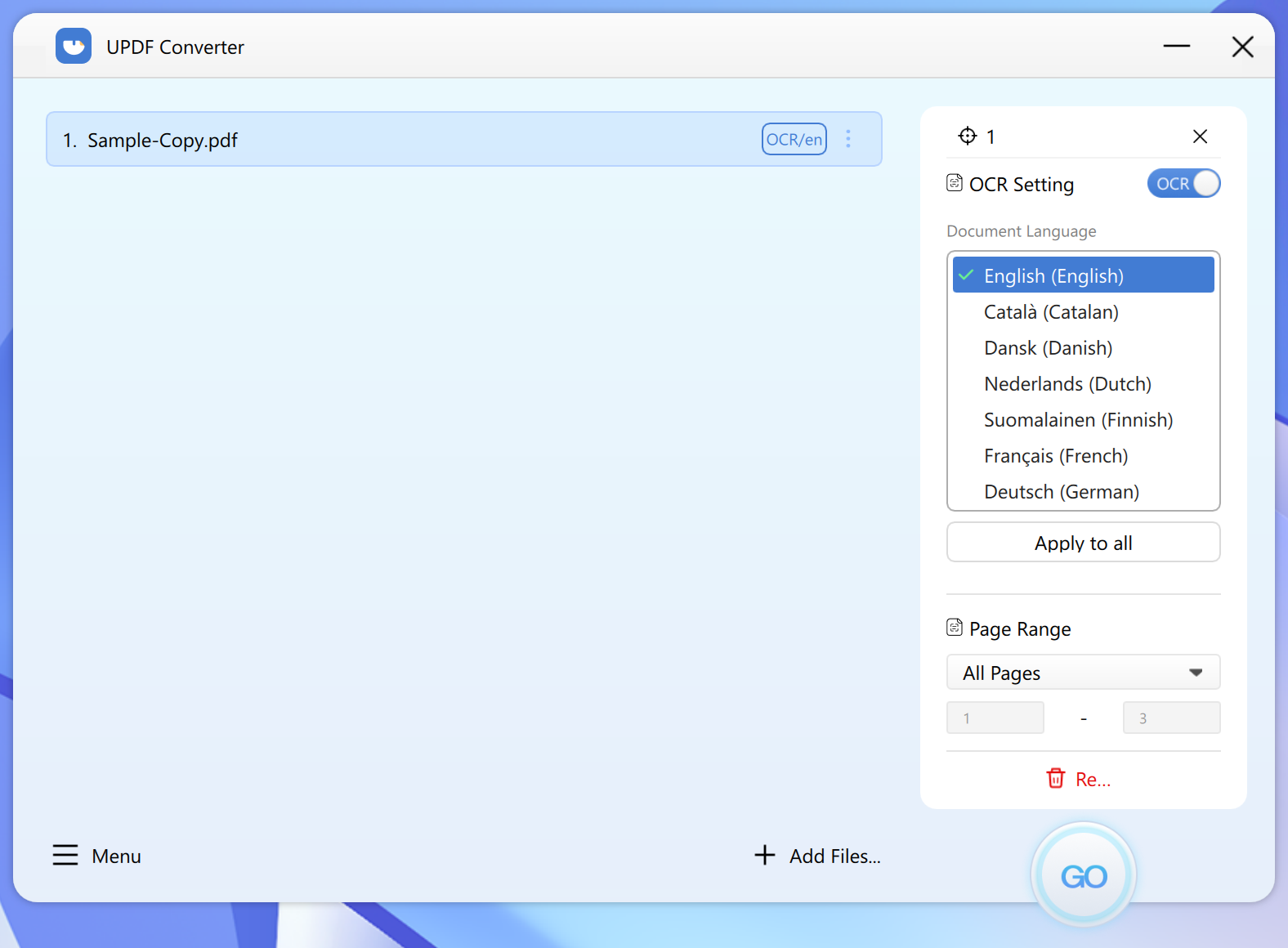 Convert Password-Protected PDF to Editable Formats
Converting password-protected PDF to editable versions is always a challenge, but UPDF Converter for Windows and Mac makes the process easy. You can convert the PDFs to editable formats in the paid version of the tool. If you are using the trial version, you must input the password to be able to do the conversion. After the conversion, you will be able to share and edit the password-protected file more efficiently.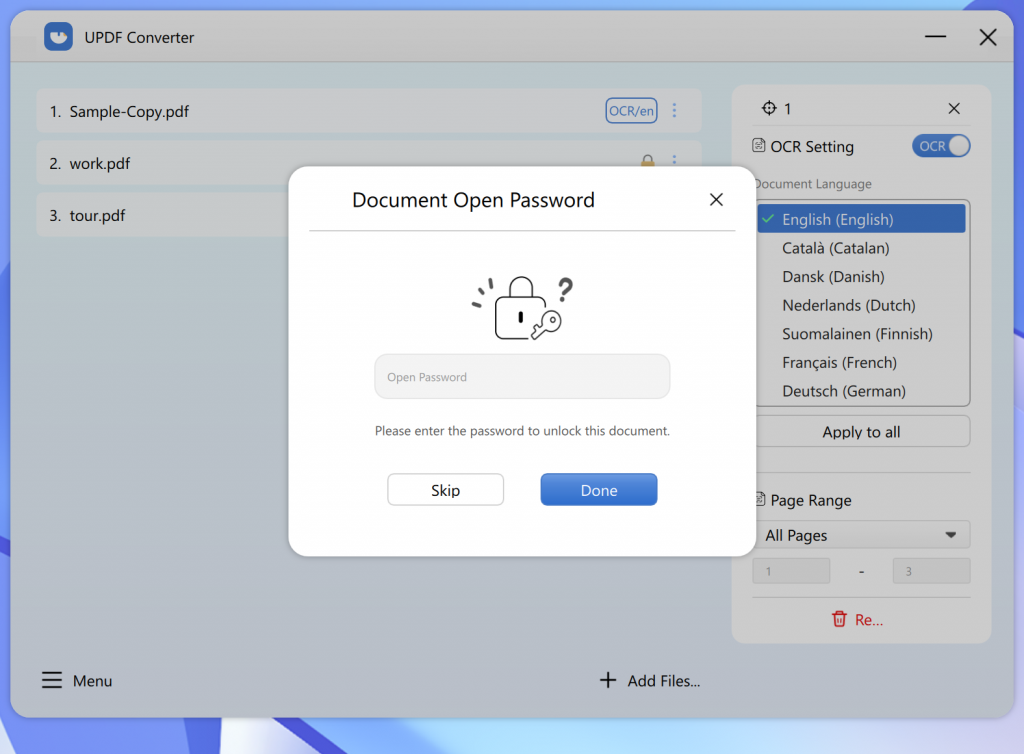 Batch Conversion to Save Your Time
Regardless of the number of PDFs you want to convert, with the UPDF Converter, you can convert a batch of PDFs with one click. This means that you can convert multiple PDFs at a go, saving you a lot of time. The batch conversion feature makes UPDF a perfect tool to use if you handle massive PDF documents in your workplace. The tool is robust enough to handle any workload fast and efficiently.
Pros of UPDF Converter
Accurate conversion
One of the most significant benefits you get by using the UPDF Converter is accuracy in the conversion. With the tool, you can have peace of mind knowing that the accuracy of your conversion is highly guaranteed. You can export your PDFs to various formats without losing any single letter or number in your files. So, no misunderstanding can arise from the converted files.
Formats consistency
Another benefit you enjoy using UPDF convert is the high-level format consistency. One issue you face when converting documents from one format to another is the loss of content. UPDF Converter solves this problem more amicably by ensuring that no content is lost during the conversion process. You get files similar to the original PDF files with no content lost. All your images will not be lost, as it happens with most other PDF converters. This, you don't waste any time as you perform manual corrections after the conversion.
Conclusion
It's clear that the UPDF Converter for Windows and Mac is an easy-to-use app that makes PDF conversion easy and fast. The tool delivers accurate results, so the original layouts and formats are not lost in the process. The tiresome work of manually correcting your files after the conversion is eliminated. You also like the tool interface since it is user-friendly and easy to understand. The conversion steps are simple, allowing for convenience while using the tool. The batch conversion makes the UPDF Converter for Windows and Mac a must-have tool for all people dealing with mass PDF conversions.