5 Most Dangerous Airport in the World
5 Most Dangerous Airport in the World
Today we will take you to one of the world's dangerous airports – airports. As you all know, modern technology is being used worldwide to make travel easier and safer, but there are still a few airport worlds.
The aviation sector is growing rapidly around the world, which is why special steps are taken to boost the sector but here we will tell you about some of the most amazing and dangerous airports in the world. , Where still pilots land and take off the plane with extreme skill while playing on the pilot.
1: Skiathos Airport Greece
The Skiathos Airport is considered to be the world's most dangerous airport, located between the two islands, and the pilot has to be very careful landing the aircraft above the tourists when landing. During landing, tourists on the island are often overwhelmed by the air pressure.
2: Lukla Airport Nepal
Nepal's Lukla Airport is also considered one of the world's most dangerous airports, with the alarming fact that a pilot has to land an aircraft after entering high cliffs, which is not a typical pilot bus. Because the pilot's slightest mistake is likely to hit the plane's rock.
3: Gustaf iii Airport Caribbean Island
Gustaf Airport is located in Saint Bertha Lamey, France, where only small chartered planes land. The alarming thing about this airport is that its runway is several feet down the road and the aircraft has to land in the slopes and the pilot has to fly over the airport's connecting population.
4: Princess Juliana Airport Caribbean Island
St. Julian Airport is located on the beach and if the plane land or take off, it is thought that it will collide with the people on the coast. Pilots have to be careful so that they do not collide with people.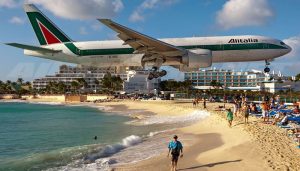 5: Courchevel Airport France
France's Courchevel Airport is located at 6,858 feet high, surrounded by snow-capped mountains. The airport's runway is only 537 meters, and the most dangerous thing is that the runway is rather uneven and straight, and the plane crashes at landing. In the event of fog or dark cloud cover, it is not possible to have a plane landing at this airport.