Introduction:
A blue world city is an architectural masterpiece of splendid and the glance of beauty itself, Pakistan's first perfect home place, and also a wide place full of opportunities in a spirited culture. Blue world city Islamabad is the perfect destination which we call a home place, where we get the plenty of amenities and world-class facilities, and also its convenient location makes this city more famous about its growing popularity of the shopping mall and dining options, the health care center and educational institutions and other required facilities.
The most sustainable and prosperous environment, where society can live, work and thrive towards success and grow in this splendid blue world city. This city is an ideal place for investment and business perspective; its infrastructure is well developed and modernized with all the meticulous facilities and amenities that you would need.
Owners and Developers:
The owner and developer of this splendid blue word city are the blue groups of companies, the son of ex-deputy Commissioner Saad Nazeer is the sole owner of the company and is responsible for all aspects. This company was established in 1998 in the city of Lahore. This company provides the services such as construction and design. Their high-quality work proves itself their trustworthy and professional work. This company is ranked as one of Pakistan's Top 5 real estate developmental firms in Pakistan.
Prime and ideal location:
The prime blue world city location is found on Chakri Road. It is close near to the Chakri Interchange on the Islamabad Lahore Motorway M-2. It has near access to Islamabad International Airport. The closed access points are Rawalpindi Ring Road, CPEC Route, Rawalpindi Race Club, and N-5 National Highway.
NOC of Blue world City:
The NOC of any society is more important because to ensure residents for their trustworthy behavior, the legalization of any housing society is essential. The blue world city NOC is approved by the (Rawalpindi Development Authority) RDA. It is a legal residential scheme. Their NOC was approved on 7/08/2018.
File verification:
Blue world city also offers the opportunity for an online file verification process. It is more accessible and convenient for all who live abroad; these online services of documentation make people's life easy, and they are able to check the status of the application, online payments, and online certification procedures. Makkaan.com also provides access to verify your plot file online through our trustworthy resources.
Blue World City: (A place to raise and succeed)
The blue world city was designed to provide the platform in which the market trends get prosperity and provide the modern housing society. Their aim is to provide a luxurious lifestyle and top-notch facilities under one roof. You can live a comfortable life in this advanced area.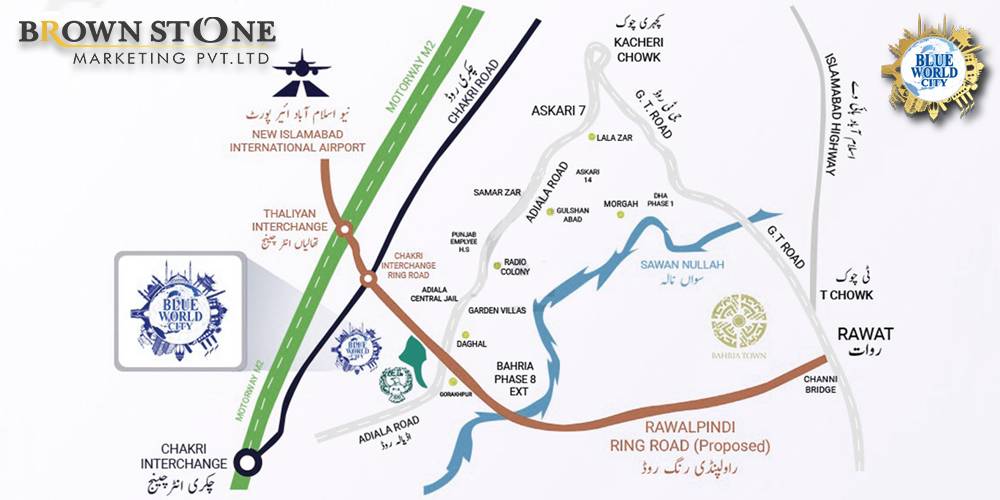 This project has distinct features which were planned or designed by the professionals. A separate place is specified for the residential and commercial plots. Once the project of the blue world is complete, it will boost the economy of Pakistan.
The blue world city project is divided into multiple blocks and sectors.
BWC General Block
BWC Overseas Block 
BWC waterfront district 
BWC Awami Complex
General Block:
This blue world city general block contains both kinds of plots, the commercial and residential as well; it makes an excellent opportunity for investment. This block specialty is to provide the best price for all the luxurious lifestyles. Their prices are affordable with easy four years installment plans.
This society offers different sizes of plots:
Residential plots contain 5,8,10 Marla plots, one Kanal, and 2 Kanal.
4 to 8 Kanal plots were placed for the farmhouse structure
For the commercial perspectives 5 and 8, Marla can be used.
Overseas Block:
This smart and international design is based on Pakistan's first housing society, especially for the overseas Pakistani who live abroad, which is beautifully constructed. The overseas block has a limited plots for sale in the overseas block. Avail of the great opportunity with lavish facilities and secure your future.
Overseas Block Location:
This remarkable housing society offers the best opportunity for the overseas Pakistani and also for the local residents the superb and futuristic amenities of the blue world overseas block. The overseas block is closely accessed to the main community gate directly accessed from Chakri Road. It has direct access from Rawalpindi Ring Road towards the housing society. This road is also linked with Motorway M-2.
Its excellent location itself attracts the investors of both the local and international investors; soon, this project will become the investment hub for all buyers and investors too.
Waterfront Block:
The latest addition of the new block Is the waterfront block in the blue world city Islamabad project; this amazing area is situated right next to the waterfront and also Infront of the Outbound Block. The society aims to present tranquility to the residents.
It's easy to reach your office and business within minutes, just from the Rawalpindi. Both kinds of conveniences, business and private, are available in society.
Awami Complex:
The new addition of the new Awami block in the majestic land of Blue World City. This block is divided into different units like duplex units, independent units, and single units. All these units are well equipped with meticulous amenities and splendid with their scenic views of the society; their aim is to provide upscale amenities, sustainable infrastructure, and a comfortable environment.
Awami block is being developed to reach the high demands for a reasonable housing society. This block is established as a single or duplex unit with a friendly budget process of construction with the most advance and high quality that was never compromised. The Awami block in the blue world seems to be the most cost-effective housing society.
Location of Awami Block:
The Awami block sector is located on the parallel side of the blue world city, which directly accesses Blue World City, the most famous area, which is close to Islamabad International Airport.
Its developmental procedure will be executed by the well-known company Blue Group of Companies with its highly advanced quality work.
Payment Plans of Blue world City:
The blue world city provides four-year payment plans with easy installments. For the initial reservation, only a 10% deposit amount is required. Each blook has different plots with their respective payment plans. Grab the plots until it becomes too late, and prices will increase.
Blue World City Features Outlook:
Blue world city aims to make Pakistan's best largest Chinese design housing society ever in which it caters to the future needs and demands of its inhabitants. It provides the ultra-modern and all the meticulous facilities which any other society can offer within these affordable payment plans. In the coming few years, the 2 million chinses citizens are moving to Pakistan to take part in the CPEC project.
Through this concept, the society aims to provide the futuristic and international quality infrastructure that will be helpful for the chinses residents and also for the residents of Pakistan.
Commercial Hub
Turkey's Replica of Blue Mosque
Security measures 24/7
Crystal lakes and recreational parks
Carpeted Roads
Health care centers
Cultural and sports complex
Water theme park
Adventure club
Safari Zoo
Water filtration plants
7-star Hotel
World's tallest horse Mascot
Rumi's square
Gated Community
Fitness Complex
Blue world Cineplex
Surveillance and maintenances 24/7
Forces schools
Basic Utilities availability 24/7
Waste Management system
Water filtration plant
Police station
Transportation system
A perfect place for your next home:
If you want to buy a new home place, then the first priority is towards blue world City Islamabad. This project launches high-tech amenities with an extravagant development process. It's the perfect time to make a decision and secure your investment and get a high return in the future. The beautiful city with plenty of advanced amenities will surely make your life peaceful and calm. It has everything you need beyond your imagination. Also, the amazing commercial and industrial areas for establishing your business and much more you want for your future.
Conclusion:
If you want to invest and know more about Blue World City please visit the physical office or official website of Brownstone Marketing Pvt.Ltd.
The blue world city, no doubt, is the best place for living, an excellent option with well-planned architectural design and infrastructure. It's close to your all-basic necessities under the one roof, the schools, recreational parks, lakes, water theme park, golf courses, sports complex, and much more beyond your expectation, so only the blue world City is the best place to live!