Places to Visit in Islamabad in One Day
What can be seen in Islamabad in a day?
Set in the foothills of the lush mountains, Islamabad is regarded as one of the most beautiful capitals in the world. If you come to this city for the first time from this Pursuit, perhaps the question that comes to your mind is, what is there to see here, and in the short time of the same day? Just this question took us on this one-day 'Express' trip to Islamabad.
Places to visit in Islamabad in one day
1: The cave of Shah Allah Ditta
This place is located just a short distance from Sector D12 in Islamabad, at the foot of the Margalla hills. The road to get here is nominal but not bad enough to make you think of excluding this place from your list.
There are a few caves between the mountains, a garden and a natural spring whose water flows downstream along the road.
This place is known as both the cave of Shah Allah Ditta and the cave of Buddha. The question is, who was Shah Allah Ditta and what is the history of these caves? The local caveman, Mohammad Ismail Abbasi, says that the cave used to be the place of worship of Buddhist monks in ancient times, while a man named Shah Allah Ditta was the head of the settlement centuries ago.
Several floors of banyan trees hang high on the caves that cover these caves. There are mango trees in the garden, sitting in the shade, and you can enjoy tea at the nearby stall, where the ducks will surround you.
For your entertainment, there is also a hammock hanging from a banyan tree hundreds of years ago, which not only relieves childhood memories but also reduces stress.
From the caves of Shah Allah Ditta, a road goes up, whereas you go up and down you will have such beautiful views of the valley and the city of Islamabad. After a location here, the Haripur division of Khyber Pakhtunkhwa starts.
The whole area was, in fact, an ancient highway through which Afghanistan and India were linked. Here is an ancient wall that was built by Sher Shah Suri according to Muhammad Ismail Abbasi. Come down the stairs to this well and sit for a while and imagine yourself in the Middle Ages.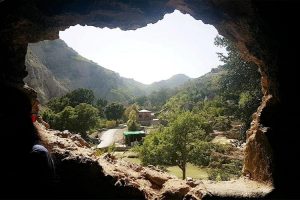 2: Margalla Hills National Park
About 25 minutes' walking distance from Shah Allah Ditta is made for hiking in the hills of Margalla called Trails. There are a total of six trails, the most well-known being Trail Three and Trail Five.
To complete Trail 3 you must be an old hiker, otherwise, it can be difficult for newcomers. But if you complete Trail Three, you'll reach the famous restaurants on the top of these mountains. But if you don't want to walk for two to two and a half hours, try the Trail Fives like us, which is relatively easy but just as attractive.
Be sure to carry a bottle of water with you as you will feel thirsty while hiking. If you are coming here in September and October or the rainy season, there will be numerous springs waiting for you to soak up your ears and quench your thirst.
All the other springs are dry due to the lack of rainy season but we were lucky to find a fountain here today. Bring your humble and non-fruity, fruity lick or anything you like to eat at home and enjoy natural music and simple food while sitting by the fountain here. Believe it or not, this taste will not be found in any expensive hotel. Just take the leftover food and trash with you instead of leaving it here.
If you do not want to walk too much on the Margalla trails, there are wooden benches and cliffs on which you can sit, soothe, exhaust and soak in the noise of the birds that are now in the noise of the cities. Are rarely heard. And when you finish the trail and get back, you will not forget to eat Gurr tea and Pakory from the parking stall.
3: Pakistan Museum of Natural History
If you are one of those people whose language always comes with the word whale, then you must visit this museum, because the blue whale structure here clearly states that the whale Not a fish but a human being, like a mammalian animal.
At the door, you are welcomed by a blue wheel structure that is also inside. If you enter here with a ticket for only 30 rupees, then after a few rooms you arrive in a room where an elephant and an elephant are facing. Here various bones and skulls of different species have been placed on different shelves during different stages of human evolution. It was a fascinating experience to see these ancient fossils in front of me because of my keen interest in evolutionary biology.
These fossils are arranged and behind their shelves are painted images of changes in human society over time, which give these bones the language of a picture story. Before actually visiting this museum, I knew very little about the fossils, metals, and nuggets found in Pakistan, and the species and species of birds and animals that came from Pakistan, but anyone interested in natural history. This small museum can be lost for hours.
On the second floor of the museum is a dinosaur gallery in which you can see the largest dinosaur, T-Rex, standing open in front of the famous movie Jurassic Park, which, if you look back millions of years ago, Fear wanes. In the same gallery, sculptures of various types of birds and their eggs are placed, while in a chart on the wall, the diagrams of the evolutionary stages tell how all the birds in the world today are a kind of dinosaurs.
A whale shark fish found near the coast of Sindh Province, Pakistan, is on display at the Fish Gallery on the third floor. The whale shark is the largest fish in the world and the fish in the museum is 40 feet in length and weighs 16 tons at the time of its capture and has been protected by the United Nations.
Exit the museum while you wait for another wonderful garden. This is a giant statue of an animal called Baluchi Thyram, which was actually an extinct genus of rhinoceros. Its fossils were discovered in the Dera Bugti area of Balochistan province in 1908, hence the animal was named Baluchi Thyram. It was one of the largest mammalian animals on our planet. Standing at its footsteps, you suddenly begin to look like a dwarf. This entire museum is undoubtedly a treasure trove of historical treasures. It is also surrounded by folk heritage museums and monuments of Pakistan.
4: Shahdara Point
Just outside the city of Islamabad, Shahdara is located a few feet ahead of Quaid-e-Azam University. When you turn inwards from the main road to get here, the road is bad but still, it can be reached after about 45 minutes' drive from Islamabad. There is a valley between beautiful and lush mountains, with fountains of cool and freshwater.
The highlight of this wonderful location is that if you want to eat something here, the restaurant and stall owners have set their tables, chairs, and beds in the middle of the flowing springs, which makes the refreshments a breeze. Before and after the refreshments, I enjoy ducklings gathering with me in a fountain, and in the meantime, no matter what the music is playing at a hotel in the distance.
At the Shahdara place, you can go as far as you want in the mountains, but most people come here only because of the flowing springs that last almost all year. Since the sun is getting hot today because of the winter, we also ordered early tea, Pakodas, and chips, which ended our short but fun tour of Islamabad's resort.
Related: