How I Created a Brand Identity for My Coffee Shop in Less Than 10 Minutes with Logo AI
I always dreamed of having my own coffee shop, and one day I started working on it. The first thing I needed was to create my unique brand identity. I went on the internet to look for help.
I found several web-based logo services that were offering logo design on their platforms. After playing with them for some time, I decided to go with Logo AI for my final creation. The website had a simple interface that was easy to use.
It surprised me to see that artificial intelligence could also be used in design work – I always thought only human artists and designers could be counted on for creative work. I also loved how Logo AI partnered with another website to host logo design contests – it's an affordable way to get a professional designer to make a logo for your business while helping those designers to build a real portfolio as well. However, at the moment, I decided that I wanted to go for the more affordable route – an AI-generated logo.
Home Page:
The home page immediately drew my attention, and I liked the sample they gave on the page. It made me feel excited, imagining my brand printed on cards, flyers and even uniforms. I clicked the button to get started right away, and typed in the name of my business "Coffee Bean Bar". Immediately after, the site generated so many logos. There were really good choices, I actually had a tough time deciding which one I would end up with.
Read Also: Best Graphic Design Software
I thought about my coffee shop and the customers I'd like to attract and decided to go for a fun, soft but fresh vibe. It was required that the word "coffee" be clearly displayed since I planned to put up a sign near my store to draw more customers in even while they are a good distance away. Finally, I also wanted to give the logo a touch of pink, to set myself apart from other more industrial, minimalistic or artsy coffee shops.
Logo:
After finally deciding on the logo, I was presented with three files: the main logo, a version that used inverted colors of my main logo, and a black and white version of the logo. There were also options to create a unified brand aesthetic for social media, documents, poster templates, business card designs and etc. It's very useful because I didn't have to go anywhere else for my design needs and I could do it all in one place. While I wasn't decided yet about purchasing everything all at once, I will definitely be coming back to Logo AI for my design needs.
Just like logo creation, the process of designing a calling card was very easy and straightforward. First, I uploaded the logo I made previously and selected a brand color. Immediately after this, I was given different choices of card templates that ranged from simple to more corporate designs. Moreover, the site has an opportunity to choose from the horizontal and vertical card layout. So, it's quite important for those who want a non-standard and unusual design.
Having chosen the most interesting variant, I started to create with might and main. I truly personalized the design by adding inscriptions, logos, images, using different fonts, changing background colors and moving objects inside the template. All I had to do was just to choose the size and download my perfect business card. I was already looking forward to the moment I would give my partners a cool card made by me personally!
Social Media Designs
The creation of social media designs gave me great pleasure as well. With no design skills, I was delighted that I'm able to do something beautiful, trendy and professional looking. And once again, the whole process was rather intuitive: first, choose a template that best suits your business and write a message you want to convey to your followers.
Various customized designs like landscape, poster or square allow choosing from ideas for a particular social media platform. And then it's time for creativity: you can upload your own pictures or use a ready-made collection of professional images (believe me, there is plenty to choose from!), place your logo, edit the layout, combine different font styles, change colors, and add shapes, illustrations and text.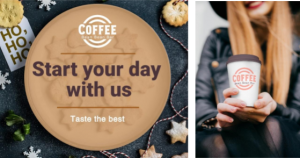 Using the site was a great experience. It was very easy, and I actually had a lot of fun scrolling through all the designs and imagining the logos on the packaging and in my coffee shop. It was so easy, all I had to do was to type in a couple of words and click, click, click! I'm definitely going to recommend it to my friends with small startups who definitely need this help.
People like us need a good logo to stand out among the hundreds of other businesses from the same industry, and a great but low-cost brand identity design is one of the best ways to establish trust and build the brand.