A vehicle bomb has exploded outside a popular restaurant based in Somalia's capital, Mogadishu.
The death rate is reached about 20 with 30 wounded after a vehicle packed with explosives bumped into a famous restaurant named Luul Yemini in Somalia's Capital on Friday night.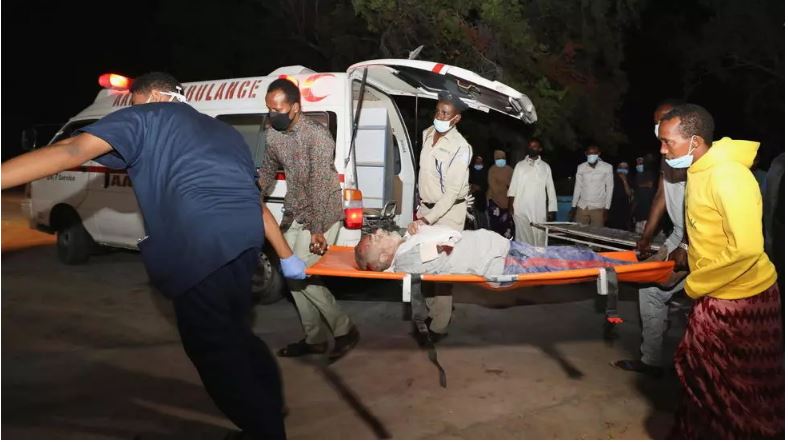 According to the news, 11 people died at the spot, and now the number reached 20. About 30 others are seriously injured. Ambulances reached the scene to help injured people. Blood and wreckage were found everywhere. Some houses also collapsed after a dinner time blast that caused deaths. Car was packed with explosives exploded at the gates of Lul Yemini Restaurant located near the port at around 8:00 pm. The detonation was followed by heavy gunfire. Buildings and business centers in the area are also get destroyed by a powerful blast. Asmin ambulances reached to protect the injured people and confirmed that 30 people were wounded at that time and rushed them into the hospital.
According to Liban Yusuf, the witness of the scene that plumes of white smoke covered Mogadishu, Somalia's capital after massive gunfire. He also added that a huge building near the site slumped and a rescue operation was underway to recoup the people trapped in the rubble.
According to police representator, Sadiq Adan Ali informed the Anadolu Agency that an explosive-laden vehicle but the restaurant in Mogadishu. According to news, the car was parked explosive-laden outside the restaurant. Now investigations are underway to analyze the destruction.
According to Sumali's Information Ministry's Spokesman named Ismail Mukhtar Oronjo stated on Twitter: "A car bomb has exploded outside the Luul Yemeni restaurant near the port city of Mogadishu. Reports from Hamarjajab district in Benadir region say that there were casualties as a result of the blast."
Somali-based al-Qaeda affiliated the attack with the al-Shabaab group which had previously claimed the responsibilities of recent attacks in the country. And now the terror group Al-Shabaab has itself claimed the responsibility of this demolishing attack by posting statements on its affiliated sites. It is the second attack on the same restaurant. The first attack occur in August 2020. This latest attack came during a political crisis over a postponed election with tight security measures in Mogadishu. Somalia's president on 8 Feb without a timely election held in the country.
Last month, another vehicle bomb was exploded near Somalian's President Palace.
Al-Shabaab is the Islamist Militant group in Somalia founded in 2004 and waged an Insurance against Somalia's Traditional Federal Government(STFG). This group was originally founded to combat the lawlessness and mobster effect of the area.
In 2011 Al-Shabaab group was pushed out of Mogadishu- Somalian's capital by Somali and African Union Forces but they have been carrying out gun attacks and vehicle bombing in the coastal city.