Dramatic reduction of air pollution in various countries from Coronavirus
The coronavirus that starts spreading from Wuhan China in December 2019 has been spread to almost 175+ countries across the globe. It has been diagnosed in almost 3 lac 11 thousand people worldwide and it has taken the lives of around 14 thousand people.
Due to the coronavirus outbreak, the government of many countries announced lockdown, as a result of this air pollution has dropped dramatically. Photographs by NASA in early March showed a significant reduction in air pollution as a result of this outbreak in China.
Photos taken by NASA from space show a significant reduction in air pollution across China. NASA scientists say that the level of nitrogen dioxide (NO2) has dropped. Which emits from gas vehicles, power plants, and industrial centers. Photos from NASA and the European Space Agency (ESA) pollution monitoring satellites were compared to the first 2 months of 2019 and 2 this year.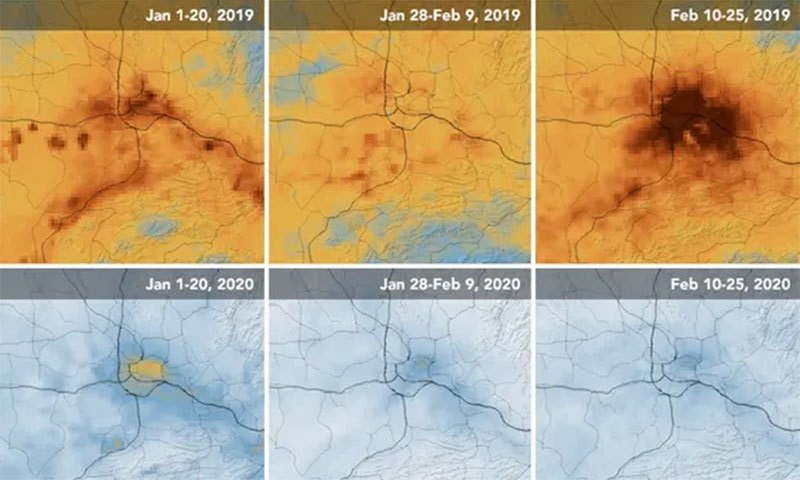 Now the outbreak has been largely controlled in China, and recent photos of the European Space Agency have once again shown an increase in NO2 emissions. But a significant reeducation in air pollution is the monitor in other countries.
No boats are running in canals in Venice, as a result, the water of canals has become transparent. While in Thailand and Japan, monkeys and deer are wandering on empty streets.
Big short-term beneficiary of #Coronavirus Crisis is #environment #airquality #cleanair #cleanwater in #Italy #China @esa @NASA https://t.co/OdBIhFyN5L pic.twitter.com/PPNfnbx4qF

— Anthony Gooch Gálvez (@pitres) March 21, 2020
Similar changes have been seen in Barcelona and Madrid. Where the Spanish administration restricts people to their homes in mid-March.
Dramatic reduction:
According to Vincent-Henri Peuch of the EU's Earth Surveillance Program, NO2 is short-lived air pollution. Which lasts for up to a day at the air level. He tells AFP, As a result, the pollution stays close to the source of emissions, and can also be used to track the activity levels of various sectors.
Breathing better in 🇮🇹 — the irony of a respiratory illness

Northern Italy's air quality notably improved from the Coronavirus lockdown, as people stayed home. Here are the NOX emissions seen from space.

From the @ESA #Sentinel5P satellite, showing the first 10 weeks of 2020. pic.twitter.com/BFQk2wuech

— Steve Jurvetson (@FutureJurvetson) March 14, 2020
NASA's Goddard Space Flight Center's air quality expert Fai Liu said that "This is the first time I have seen such a dramatic decrease in pollution rates for a specific reason in such a large part of China. During the economic downturn a decade ago, NO2 levels dropped but not so much. Vincent-Henri Peuch said that the level of NO2 in northern Italy is almost gone.
It should be noted that this pollution system causes serious confusion in the respiratory system and needless to say, COVID-19 effect on the respiration system.
Long-term effects:
Scientists are now collecting data from other countries or regions such as Argentina, Belgium, California, France, and Tunisia, where people are restricted to their homes and the air pollution trend there is seen in China, Italy or which direction resembles Spain?
Recent data have shown a decline of air pollution over northern Italy coinciding with a nationwide lockdown to prevent spread of the #coronavirus. This new map shows variation in NO2 emissions over China (Dec-Mar), as seen by @CopernicusEU #Sentinel5P 👉 https://t.co/nDtznxjLkM pic.twitter.com/qV0yS1d6X2

— ESA (@esa) March 19, 2020
The small amount of NO2 in the atmosphere does not mean that the air will be transparent because NASA recorded airborne pollution in Beijing in February. A moderate level of pollution recorded on Friday in Paris due to these particles in the air. Where NO2 is still in the atmosphere, although its population is restricted to houses for 3 days.
Vincent-Henri Peuch said that pollution levels also depend on the weather. Some sources of pollution emissions, such as energy generation and energy use at the domestic level, will likely not decrease as more people are now living in homes.
But, what can these changes do to improve human health? According to a report air pollution causes premature deaths of 8 million people every year. Small particles in the air cause sores in eyes, throat and it causes difficulty in breathing. In serious cases, the risk of death for elderly people and asthma patients is when they are not treated properly. Air pollution in the long term can cause respiratory or chronic heart disease or lung cancer. But experts say low pollution is always good.
According to French physicians to restrict people to their homes provides them with two ways of protection. One is from COVID-19 and reducing traffic on roads reduces air pollution. Experts say that it is difficult to know how much the global public will get benefits from this reduction at this time.