Famous actress Aiman Khan has become the most popular Pakistani actress followed on Instagram.
She is the first Pakistani actress to be followed by 5.9 million fans on Instagram, surpassing all other actresses in the entertainment industry. Before Aiman Khan, the award went to Mahira Khan, whose current followers are 5.8 million fans.
Apart from Aiman, his twin sister actress Manal Khan is also not far behind in this race. The number of her fans on Instagram has reached 4.9 million so far. Aiman Khan's husband actor Muneeb Butt also congratulated her on being the most followed on Instagram. Aiman khan Instagram followers.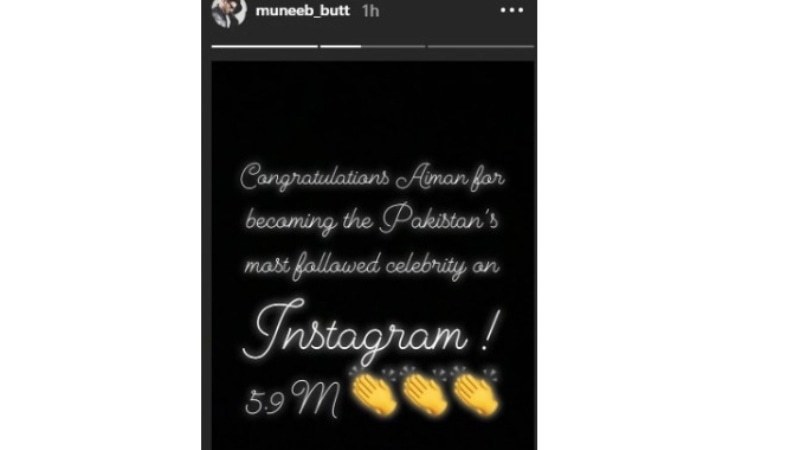 In his Insta Story, Muneeb Butt wrote that Aiman is the most followed person in Pakistan. On the other hand, actress Aiman Khan also thanked her fans on social media after receiving the award.
View this post on Instagram
Thanking the Instagram followers, Aiman also shared a beautiful photo with his daughter Amal. Remember that Aiman Khan is very active on her Instagram account. She often shares photos of her daughter with fans as well as romantic photos with her husband Muneeb Butt.
View this post on Instagram
If we take a look at Aiman Khan's career, the actress started her career with the 2012 drama 'Mohabbat Bhaar Mein Jaaye'. She has acted in dramas like 'Mann Mayal', 'Kitni Garhin Baaki Hai', 'Ghar Titli Ka Par', 'Ishq Tamasha' and 'Baandi'.
View this post on Instagram