One of the most memorable and beautiful seasons celebrated worldwide is finally here. Christians welcome the child Jesus in their heart, as they believe he came to save the sinners. Everyone is called to show some love by sharing the little they have with others. It's a jolly season, and everywhere you go, you will find glowing candy canes and children running to the toy stores.
Read Also: 4 Ways To Treat Your Loved One This Holiday Season
As this is an ideal time for gifting, it's time to add a diamond necklace to your wife's jewelry collection. Right? Maybe a classic watch for your hubby and Lego game for your child. The list can go on and on. If you've not finished fulfilling your Christmas offerings, now you have a chance to do it with our lovely curated gifts below:
Christmas Brooch
There are many styling possibilities with this accessory. Once you get the right jacket or anything that you deem fit to pair, you will rock this Christmas.
Match the suit
Now it's time to finally gift your man that classic watch he has been raving about this Christmas. It might not be a Rolex, but the right accessory that complements his fashion wear.
Heirloom
Christmas is a beautiful time to sit with your family as you share some legend stories. That makes it a perfect time for grandma to announce who she will bless with the valuable jewelry. However, that doesn't go without a little history of that piece. And since it might be quite a sentimental piece, consider a jewelry appraisal for security purposes.
Reindeer socks
This beautiful pair is a unisex and suitable gift for almost anyone on your list. Whether it's your grandpa or your dad, reindeers are adorable this season.
Santa earrings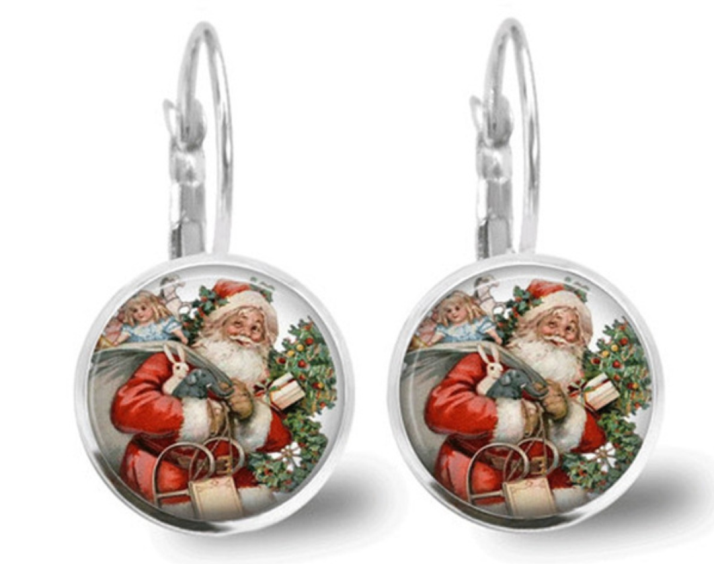 If you want to get some thoughtful present for your BFF, mom, or someone special, this set will be a brilliant present. They could also make a lovely pair with a matching pendant.
Strider balance
A three-year-old child is developing his mind, and learning how to cycle will be an activity to aid those undeveloped skills. It is a perfect time to practice balancing.
Read Also: 10 Unique Gifts That Will Leave Your Partner Speechless
Santa pendant
Ho Ho Ho… getting a Santa pendant for your jewelry puts you in a holiday spirit that you might as well spread it to others.
Natural gemstones
These stones are relatively rare, and that makes them so precious. It can be a lovely Christmas gift for your mom, an aunt, your wife, or your sister would adore this. It is a timeless jewelry collection worth investing in.
You are my angel
Even your teen deserves a sentimental piece of accessory like this one for Christmas.
Cufflinks
Style up your man with these trendy shirt cuff links. They perfectly match the holiday season, but they are also wearable for many other occasions.
Interlino smart train
It is a classic train set built using smart technology. The children will have fun as they search how these 40 color snap tiles control their steering speed using a mobile app. The little ones might need to use your phone for this mission if they don't have a mobile.
Studded cuffs
When you go the fashion way, a girl can always add a pair of dainty hoops to her jewelry collection. These are some of the timeless classics. It fits all earlobes, and all that is needed is to push the hair backward, and you will rock with any outfit.
VTech KidiZoom
Either we like it or not, we are in an era of selfies. And even our children are quickly learning how to do this. A Christmas gift like this will be quite thrilling for a nine-year-old child. Not only will he know to tell time, but he will also take video and lots of selfies for a holiday.
Read Also: Cheerful & Creative Gifts for Grandma to Brighten Her Day
Gold it is
This Christmas, it might be the perfect time to pass your grandma's gold jewelry to your daughter, who turned 18. However, it's crucial to get a jewelry appraisal for this valuable piece, especially if you consider adding it for insurance purposes.
Red-green crystal wreath (Perfect pair)
Make it a Christmas to remember with this unique gift to your BFF or any loving woman in your life.
Cozy throw
The blanket comes in handy this season. It is going to keep your loved one warm on Christmas Eve and many more nights and cold winter days.
Cashmere scarf
It is a gift that best fits the special women in your life. It doesn't disappoint, and it will be a memorable Christmas gift.
Beaded bracelet
Sometimes the best gifts are those crafted with your young ones as you teach them to develop their skills.
CDE love heart necklaces
Just like an engagement ring, this piece of jewelry with three stones is a perfect reminder of your love for your partner. It will be a lovely addition to your love's jewelry collection.
An engagement ring
Most people find Christmas a perfect time to make that proposal. Wow, her with a sparkly diamond ring.
In conclusion, help your loved ones deck up and accessorize with a lovely jewelry collection this Christmas that will be memorable. Give these whimsical pieces that are super gorgeous to nostalgic Christmas inspirations that might get you a little emotional.